Emergency Air Conditioning Repair Service
REPAIR
ALL MAKES
& MODELS

REPAIR
WITHIN
HOURS

NO
EMERGENCY
SURCHARGE *

SAFE
CERTIFIED
HVAC TECHS
DON'T WAIT. CALL NOW: (520) 408-2665
You call for an emergency air conditioning repair: we send a background-checked Certified HVAC Technician who will repair your A/C usually within hours.
We repair all makes & models: Trane, Rheem, Daikin, Lennox, Amana, Goodman, etc.
We don't apply any surcharge to your emergency except after-hours service*.
AIR CONDITIONING SERVICE AREAS
Serving Tucson Since 1959
The Tucson HVAC contractor 100% committed to Tucson
Back in January 1959 in Tucson, Arizona Arthur Duhamel and Harry Hawk founded a company specializing in residential HVAC service. Arthur and Harry pledged to provide consistent, high quality, expert services for all Southern Arizona clients, took the first letters of their last names, and D&H Air Conditioning Company was born.
D&H AC has been in continuous operation ever since, building a reputation for honesty and quality in a city where your good name is key to long-lasting success. D&H is a family affair: the current owner, Brett Wright, is the grandson of the founder.
D&H provides a great work environment for our employees, through training, job security, and benefits. These high quality experts deliver consistent service to all of our Southern Arizona clients, one reason we're acknowledged as a leading HVAC contractor serving Tucson and Southern Arizona home owners.
Tucson Loves D&H
Click on these badges to see what Tucsonans say about us
Guardian Club
That A/C System Check Plan Saves You Lots of Dollars… for Pennies a Day
Many home owners mistakenly believe that when their A/C system fails, the manufacturer's warranty automatically covers parts and labor. Yes, it is true but only if the A/C unit has been properly maintained all along.
Proper maintenance by a qualified A/C professional is a condition required for the warranty to be effective. Proper maintenance is documented by the professional, and under this condition manufacturers will cover most issues due to a defect in the AC unit. In many cases however, manufacturers stipulate in the documentation given to home owners that a lack of proper maintenance VOIDS their warranty. This could mean an expense of thousands of dollars for the homeowners.
With Guardian Club, D&H Air Conditioning offers for only $16/month, per unit, a complete maintenance program covering all the air conditioning units regardless of who installed them.  Homeowners can invest in the Guardian Club when they purchase a new unit and roll the cost into the purchase price. But even if your AC unit has not been installed by our technicians, we still offer the same comprehensive coverage for your A/C unit through Guardian Club. Please note that some restrictions may apply.
Call us at 408-2665 and for a specialist or read even more about the benefits of Guardian Club here…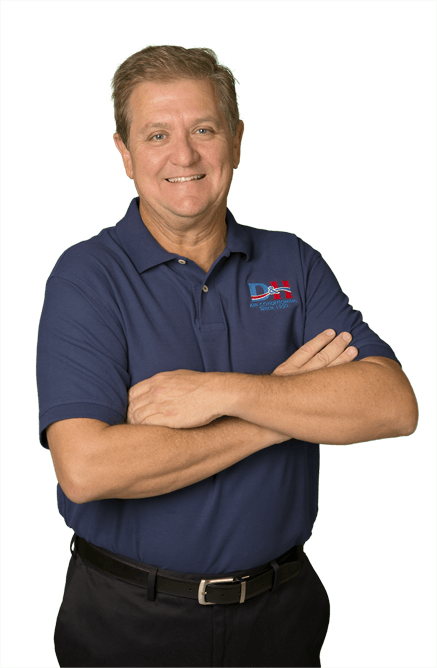 Brett Wright, President D&H AC
The D&H AC Difference
Service
Innovation
Knowledge
Experience
With the purchasing of a very large industrial facility on Evans Rd, D&H AC has renewed the commitment our founders made to Tucson and Southern Arizona back in 1959.
The air conditioning industry is undergoing a major technological change benefiting homeowners: more comfortable homes, lower energy bills, more flexible and durable A/C systems.
Small A/C operators are bound to disappear, unable to keep up with the level of training, mobility and service required by equipment makers and consumers.
D&H AC is well prepared for this, with large investments in hiring, training, equipment and technology. Our clients benefit from this at all levels, including 24/7 service, full financing, and coverage of all brands. When you call D&H AC, expect to see a difference.
Air Conditioning Service: What's in it for You?
When D&H Air Conditioning sends out an HVAC technician to check and tune up your A/C system, what exactly do you get?
On air conditioners & heat pumps we perform these 17 service steps:
Cleaning of condenser oil
Inspection of blower, lubrication as needed
Verification of refrigerant charge
Inspection of pulleys & belts
Calibration of thermostats
Lubrication of all moving parts
Cleaning of motors
Recording of temperature differentials
Testing of capacitors
Cleaning of condensate drain
Tightening of electrical connections
Inspection of power disconnect
Check of defrost timer
Testing of reversing valve (heat pumps)
Test compressor
Check contactor
Check relays
On furnaces & air handlers we perform these 10 service steps:
Visual inspection of heat exchanger
Inspection of blower, lubrication as needed
Inspection of thermocouple/hot surface igniter
Testing of safety controls
Cleaning, adjustment & testing of ignition system
Check of gas leaks
Inspection of flue pipe
Check & adjustment of manifold pressure
Cleaning of air return plenum
Testing of carbon monoxide
Many steps to help your A/C blow cold and your energy bill stay low!
CLICK TO SCHEDULE AN HVAC TECHNICIAN TO TUNE-UP YOUR A/C
Locations & Service Areas
D&H Air Conditioning offices and Service Centers are located at 3629 N Oracle Rd. and 3990 S Evans Blvd. To ensure fast service to our customers, we keep a strong fleet of vehicles on the road in Tucson and Southern Arizona at any time during the year. We are just minutes away from our clients in Tucson, Marana, Oro Valley, Vail. We can come to any home or business located in or near the cities mentioned above on this page.


Click here to verify that we service your neighborhood and city. You can also call us at 520-408-5838 to talk to our customer service specialists.
Contact Us
Air Conditioning Service
Emergency Air Conditioning Repair Services
Air Conditioning System Check & Maintenance
New HVAC Installation
Serving Tucsonans since 1959,
longer than all the other top Tucson air conditioning companies.
Address
D&H Air Conditioning & Heating
AC repair, maintenance and installation
3629 N Oracle Road
Tucson, AZ 85705
3990 S Evans Blvd
Tucson, AZ 85714
Phone: 520–408–2665
Fax: 520–887–6204
Get News & Discounts on:
Service Hours
We offer 24/7 service, 365 days per year.
We never stop repairing air conditioning systems day and night, in any weather. Call us if you have any emergency and we will do our very best to get you scheduled within the same day.
LICENCES:
AZ ROC# C-79 #070188 / C-39 #076494
E-mail
Free estimates:
reception [@] dandhac.com
Service Requests:
service [@] dandhac.com
Service Manager:
servicemgr [@] dandhac.com
General information:
reception [@] dandhac.com