Need to make an appointment to maintain, repair or replace your system?
D&H provides emergency air conditioning services in Casas Adobes on all types of A/C units
Use our Coupons to Get Air Conditioning Service in Casas Adobes at the Best Possible Rates
FOR FASTEST SCHEDULING, PLEASE CALL OUR HOTLINE: 520-408-2665
Residents of Cases Adobes are familiar with the trucks of D&H since 1959. Our company has been servicing and repairing all makes and models of HVAC units in the neighborhood. With the temperatures rising rapidly ahead of summer, it is very important if you hear your A/C doing any kind of noise never heard before, take action immediately: use the coupons above for best service rates, and call our hotline at (520) 408-2665 immediately. Do not wait until your A/C breaks down, and requires expensive repairs or even replacement.
Our team of HVAC technicians is ready 24/7 to come to you to provide full air conditioning service: the brand of your A/C doesn't matter, our NATE-certified technicians are trained to repair all makes and models. Whatever the age of your A/C unit, we service air conditioners that are older than 20 years… including swamp coolers probably installed back in the 60s and the 70s! Even if the HVAC company that installed your unit is not D&H, this doesn't matter. In 60 years of existence, we have maintained and repaired thousands of air conditioners installed by companies that have gone out of business.
Casas Adobes is in the immediate customer service area of our Service Center on N Oracle Rd
We provide air conditioning service in Casas Adobes to all homes in the following neighborhoods and condominium residences:
Barcelona Manor Condominiums, Berkshire Estates, Canada Heights, Casa Adobes Country Club Estates, Casa Cananea, Casas Adobes Estates, Casas Adobes West, Casas De Oro, Casas Del Oro Norte,  Casas Mio, Chulla Vista Villas, Cresta Loma Segundo, Fairway Terrace Condos, Gatewood Ranch, Golden Heritage Village, Hardydale, Highgate, Kachina Meadows, La Canada Foothills, La Canada Village, La Cholla Hills, La Cholla Ridge, La Toscana Village, Las Lindas, Las Lomitas Estates, Magee Corporate Center, Maya Estates, Mesaland, Mona Lisa Village, Montebella, Moondance Village, North Point Terrace, Northpointe Ridge, Northwest Corporate Center Bk, Olsen Manor, Oracle Road Professional Offices, Orangewood Estates, Orangewood North, Overton Heights, Overton Ridge Estates, Plaza Campanas Condos, Samalayuca Estates, Sonoran Palms Townhomes, Sunnyvale, The Bluffs, Village At The Foothills Condominium, West Tucson.
We have special coupons available for local residents. When you call at (520) 408-2665 for an emergency AC repair or regular service, use the coupons above:
Did you know you can lower the cost of servicing your air conditioning?
Don't spend hundreds of dollars fixing your air conditioning just because it wasn't properly maintained! Instead, set up a professional service contract with D&H AC, with regular inspections and system checks scheduled to be done by NATE-certified technicians.
If you want to keep your manufacturer's warranty valid, you have to keep your A/C unit well-maintained by certified professional HVAC technicians.
HVAC manufacturers will void your warranty if you don't get your system maintained by professionals. This is a contractual requirement you may not be aware of.
The best way to lower the cost of your A/C is to avoid failure with proper maintenance.
When your air conditioning is already out of warranty:  
It is often the case that the manufacturer's warranty expires before an A/C system falls apart.
It is still possible to get partly covered with a maintenance agreement: though not at all the same as a manufacturer's warranty, a good maintenance agreement will ensure regular inspections and tune-ups of your system, and (b) in case parts are needed, you buy them at a discount.
There are plenty of HVAC companies in Tucson, so you have a choice. D&H Air Conditioning hopes that you select our company to bring you air conditioning service in Casas Adobes. Many of your neighbors have, and we can give you references.
What is our Guardian Plan? A contract to keep your air conditioning serviced the right way
D&H AC offers a system check plan called "Guardian Plan". We come twice a year to inspect your HVAC from the top down. When the season changes, we do a tune-up, and we test all components to ensure they function properly.
DId you know that just one failing component can create huge problems, like falling dominos? These issues lead to catastrophic failures which cost several hundreds dollars to fix, sometimes even more.
The Guardian Plan remedies this risk: although no maintenance can prevent the aging of a system, expertly executed inspections will slow down the process. A competnet HVAC technician will clearly identify the risks of critical failure, a prioritize the actions to be taken. D&H replaces your parts at a discount. These inspections and system checks help prevent costly catastrophic failures. And you remain in control of following our recommendations or not.
A good maintenance (system check) contract saves you money. We serve hundreds of clients in Casas Adobes, including probably your neighbor.
You have seen our trucks in your neighborhood:
We maintain a large fleet of trucks, this is why it is not rare to see five or six D&H trucks in Casas Adobes on the same day.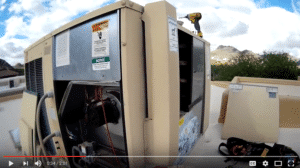 Is your own neighborhood in Casas Adobes in the lists above?
If this is the case, please use the coupons on this site and when our NATE-certified technician comes to your home, ask him about our Guardian Plan. It won't be a waste of time. On the contrary, it will save you bundles in the future.
Casas Adobes residents: Give us a call at (520) 408-2665 to inquire about the Guardian Plan for any air conditioning service. D&H Air Conditioning serves the air conditioning needs of Southern Arizona since 1959.
D&H Air Conditioning: 60 years of faithfully providing emergency air conditioning service in Casas Adobes and many, many neigborhoods of Southern Arizona.
Casas Adobes, Arizona to D&H Air Conditioning & Heating, 3629 N Oracle Road Tucson, AZ 85705
Casas Adobes, Arizona to D&H Air Conditioning & Heating, 3990 S Evans Blvd Tucson, AZ 85714