Receive an A/C Maintenance Visit for Only $79!
CALL OUR HOTLINE AT (520) 332-1532
THIS SPECIAL OFFER EXPIRES SOON...
GRAB IT NOW! CALL (520) 332-1532
What You Get:
Inspection, Testing, Cleaning & Adjustment of
21 Critical Components With High Failure Risk
Our NATE-Certified Service Professional will take these steps
to ensure your A/C system is fully maintained:
Clean condenser coil

Inspect blower

Verify refrigerant charge

Inspect exposed duct work

Clean air filters

Inspect belts/pulleys

Inspect defrost timer

Test reversing valve

Test auxiliary heat strips

Check defrost timer

Test compressor

Test reversing valve
Calibrate thermostats

Lubricate all moving parts

Clean motors

Measure & record temperature differentials

Test capacitors

Clean condenser drain

Test crank case heater

Tighten electrical connections

Inspect power disconnect

Inspect MEG OHM compressor

Verify contactor

Verify relays
The #1 cause of A/C failure is IMPROPER MAINTENANCE

Avoid a broken A/C during the summer heat
Early detection of issues saves you $$$$

Lower your power bill

Preserve your manufacturer's warranty

Extend your equipment life

Improve cooling/heating capacity
RECEIVE A MAINTENANCE VISIT FOR ONLY $79!
GRAB THIS SPECIAL OFFER: CALL OUR HOTLINE AT (520) 332-1532 NOW
Watch our Service Pro Inspect & Repair an A/C Unit on a Roof!
These very short videos are the real thing. Our Service Professional is on a client's roof inspecting an A/C unit (brand: Amana).
See him inspect and carefully test the entire air conditioning system.
He explains exactly what he is doing, his findings and how he repairs it.
The 3rd video details the costs savings received from having a good maintenance plan.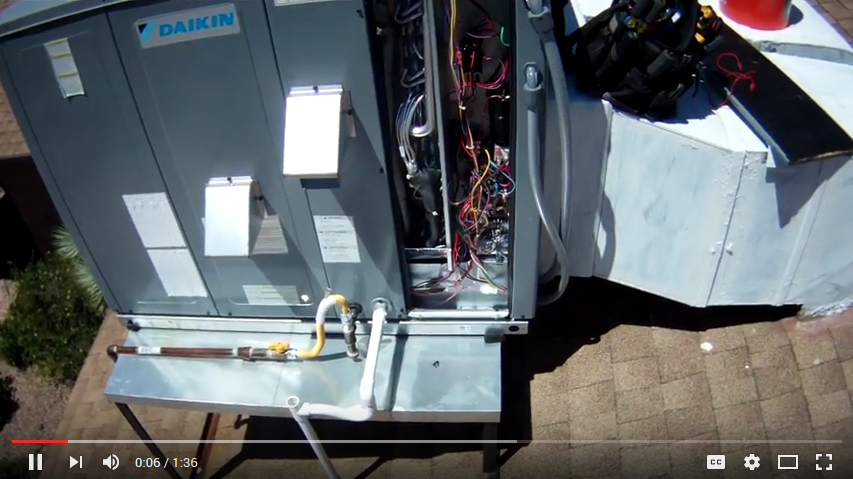 Click video to play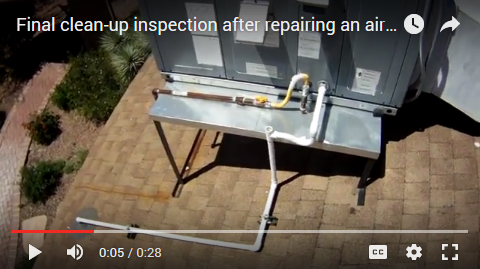 Click video to play
Click video to play
RECEIVE A MAINTENANCE VISIT FOR ONLY $79!
GRAB THIS SPECIAL OFFER: CALL OUR HOTLINE AT (520) 332-1532
D&H Air Conditioning
Heating & Cooling Tucson Homes Since 1959
OUR LOCATION IN TUCSON

3629 N Oracle Road
Tucson, AZ 85705
Transcripts of the video clips
In this first clip, our Nate-Certified Service Professional quickly identifies the parts that need replacement in this rooftop unit. Jacob goes quickly through a checklist of electrical tests designed to make a diagnostic of the unit: he measures the electrical and magnetic outputs of certain components, and visually inspect the corrosion of electrical terminals. This short video will teach you more about your A/C unit than a lengthy (and boring) owner's manual.
"Ok, so here we are at the unit. Now I've already disconnected power and I've already completed my inspection, but we're going to see what's wrong with this unit. First off, what we all do here at D&H AC as part of our service and our inspections is that we always check the electrical components. First thing I check is my current controller here. I'm going to use my electrical meter and I'm going to see how we're doing, how we're rating. You notice here on the side of the current controller it's rated for 45 for the compressor and 5 for the outdoor fan motor and that can be within a 5% tolerance of those numbers. Anything out of those tolerance is no longer acceptable by the factory and I recommend immediate replacement on that.
Let's go ahead and check our compressor site first. My meter tells me it's about 43/42.9, that's still within 5% that's ok. Let's check our fan side: 4.3 hmm rated for 5, it can be as low as 25% of 5 which is 0.25 so it can be as low as 4.75; 4.73 is quite a bit lower than 4.75. I'm going to go ahead replace its capacitor on this current controller.
Another thing that we always check is our main line compressor starters. Now the main line compressor starters is what allows the voltage to pass through in order to get to your compressor and your outdoor fan motor. This is controlled by a low-voltage signal coming from our thermostat here on the sides. So now what I'm seeing here is I'm looking at the inside of the contact right there and I notice, you can see it, it's pretty burned out. It's got a lot of pitting going on the contact. Now what that means if we have too much pitting going on there's not going to be a flat surface in order for those contacts to sit on. Now that means we're not going to have a good enough electrical connection and it's going to cause your motors to work harder because you don't have a strong connection anymore. And what could also happen it could also weld itself shut: it'll stick itself close and will not open up anymore and the only way to turn it off would be at the breaker. So once it's at this state towards burned and pitted like that I will definitely replace that, I recommend for it to be replaced. But since everything is under a 10-year parts and labor warranty I'm going to go replace everything anyway.
Now let's take a look here at our current controller for our fan motor, our blower motor. So we're going to stick our meter in there, probe is in there. Now this is rated for 10 microfarads and we can see here on my meter its rating about 8.5. Now this as same as the other one it can be a 5% tolerance. So it can be as low as 9.5, 8.5 is quite a bit lower than 9.5. I'm going to definitely that to be replaced as well.
You can also see there's quite a bit of rust on the side of the current controller and there's some oil leaking out there too. That's another sign that it's about to fail. So those are the three things that are going to have to immediately be replaced.
Now takes take a look over here on our other side of our unit. Now this is our evaporative coil or in other words our cooling coil and since this is a heat pump this coil is actually used as part of our heating system as well during the winter season. Now you can see here on this coil there's a lot of dirt on the fans and that's plugging up your coil. Now the reason I check this is because the first thing I noticed when we came to this call was that we had a plugged filter. Plugged filter since it can no longer hold anymore dirt, that dirt is going to get sucked up into this coil an cause issues for you unit as far as efficiency goes. This coil right here I would say is probably be anywhere from 20%-30% plugged. Now some people may say that's not really that much, well that 20%-30% loss of efficiency that you are getting during the summer. Now how's that going to reflect in your electric bills right? It's going to be pretty significant. So I'm going to definitely recommend that this gets clean. I'm going to go ahead and do these repairs now.
Our Service Pro goes around the unit and summarized what D&H AC has repaired and replaced on this Amana gas package unit to make it run again "like new".
"Alright, just finished up out here with the repairs. Let's see what we did today. So first off we found that this current controller is 45/5 current controller was rating badly. Well, we got a brand new one on here.
We also put a brand-new main line compressor starter in there and that way it's just a safer operation and more reliable. We don't have to worry about it sticking on us or being too pitted to where it won't allow for voltage to go through. We also replaced this 10 microfarad right there, got a brand new one right there installed.
Let's go over to our other side. We did notice that we had a dirt coil over here and we went ahead and cleaned it. Alright, nice clean coils, still kind of wet so I'm going to let them dry for a little bit. You can see that it's draining pretty well. All nice and cleaned up, nice and shiny ready to go for the summer operating at a 100% maximum efficiency. We definitely can be confident that this customer is going to happy with their electric bill this month.
We also as part of our Family Plan will clean your condenser coils completely complimentary every time we do a spring maintenance. We can see that we did that here, we can see some of the water still running off I already took care of that as part of the maintenance. Still dripping down we'll let that dry off a little bit. So there you have it, all the repairs done. Now she's ready to fire back up again.
D&H Air Conditioning installs, maintains, repairs, replaces all parts and systems of most major air-conditioning manufacturers' A/C units. If you are not sure your air-conditioning is running at optimum level, if you think your power bill is higher than it should be and that it may be due to your air conditioning not functioning properly, give us a call right away at [phone] to set up an appointment for an inspection with one of our NATE-Certified Service Professionals.
In this 3rd video, our NATE-Certified Service Professional explains the money savings our clients will pocket under the Family Planned Maintenance program.
Air conditioning unit parts and HVAC labor can cost thousands of dollars over the years. Tucson, AZ is situated in a desert environment where dust and sand accumulate to deteriorate your HVAC units. Maintenance plans are truly not an option: they WILL save you a lot of money within the first few years of operation. Just in inspection and clean-up costs!
D&H AC is a premier HVAC contractor, established in the city of Tucson, AZ since 1955. We inspect, maintain, repair and replace air conditioning systems in homes and businesses. Please call us at [phone] to inquire about our Family Planned Maintenance program (it will save you thousands of dollars in parts and labor over time), and our Discount and Trade-In Programs.
"Alright. So we are finished up with all the repairs today. Now, just think about the savings that this customer had received today. She had a 10-year part and labor warranty on an Amana Gas Package unit: this unit in only 4 years old and we can see even on a well-maintained unit just only a few years old there can be problems. With the 10-year parts and labor warranty she saved over $1100 today, that's $1100 total. Do you think it's worth it? I certainly do.
Although the coil cleaning was a little extra, that was a simple thing that's going to pay itself back when she has a nice electric bill this month and the following months to come.
So with D&H you receive a 5-star professional service from every one of our technicians and this is the experience that you can have whenever you call D&H Air Conditioning. Thank you.